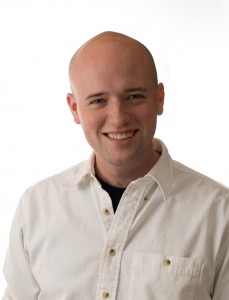 Minister, photographer, computer geek.  These three vocations (or avocations) all blend together for the Rev. Adam Frieberg.  But his primary vocation is as husband to Heidi Haverkamp.
Adam currently works as a web developer for Premier Crop Systems as well as serving churches on behalf of nPartnership – a non-profit organization that supports congregations and regions of churches.  Adam served as the Adjunct Regional Minister for Communication for the Christian Church (Disciples of Christ) in the Upper Midwest from January 2010 through October 2011.  This calling blended his gifts of graphical design, photography, writing and teaching in ways he couldn't have planned for or expected.  And it was from his experiences with Disciples in the Upper Midwest that Adam saw the need to branch out and expand his work by way of nPartnership.
Adam is an alumnus of the Disciples Divinity House of the University of Chicago and the University of Chicago Divinity School.  At the U. of C., Adam enjoyed the staple Biblical Studies classes and Arts of Ministry courses, but also enjoyed venturing into sacramental theology.  Challenging and sometimes overwhelming, his studies at the Div. School were only part of his training.  He also studied Religion, Computer Information Science and Classical Studies at Texas Christian University.  In addition, he did internships in congregations (First Christian Church in Keokuk, IA and Church of the Holy Nativity in Clarendon Hills, IL) and as a Chaplain Intern at Good Samaritan Hospital in Downers Grove, IL.
Adam is more comfortable in jeans than suits, which no doubt is due to his extensive camp and youth ministry adventures.  His native habitat blooms with adults and youth who are as curious and as creative as he is.  Thankfully, the youth at the Christian Conference Center, Camp Wakon' Da-Ho, South Hills Christian Church and Church of the Holy Nativity have proven great companions.